Pea gravel can be used to grade a campsite or parking place.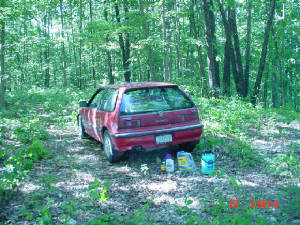 You can't see much of a trail here, but that is what it is. The trail needs to be marked better. In the winter of 04 I cleared this with a chainsaw and a few fires. (Winter is a good time for deep brush work, to avoid the ticks, chiggers, and poison ivy.) In the summer it is OK to make trails thru light underbrush (knock it down first with a "swack stick") if you run jump in the water as soon as you get done.
On to old (1972) pix and stories
(Or click here to take a side trip to "More trail and road making". Includes "clip 'n drip" and how to kill poison ivy.